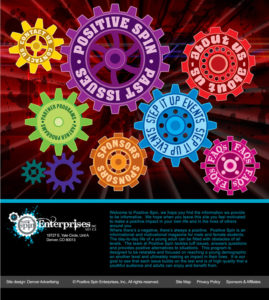 Positive Spin Magazine Website
This is a client I created branding and marketing pieces for while working at Denver Advertising.
The client wanted to re-design their website by creating something with animation, with a lot of color, and that would be fun to visit. After the idea of using gears came out, I sketched some concepts and began creating the artwork as a base in Adobe Illustrator. The pieces were brought into Adobe Photoshop and was saved as a layered file and sent to the programmers. We had them animate the gears and create the interactivity and once the site was up running, I went in and added the text content and photographs. After clicking on a gear and entering the site, the gears show up as a masthead at the top. As a visitor scrolls over the gears, they will rotate for approximately 5 seconds and then become static again.
Positive Spin Magazine is about bringing young readers the information they want in a way that will be visually and intellectually appealing. What makes it different is that it's written primarily by teens for a teen audience. The articles in Positive Spin Magazine, and on the website, all take a hard look at issues relevant to teenagers – from bullies in the halls at school, to teen pregnancy, to interviews with celebrities. Positive Spin also takes readers behind the scenes at concerts and sporting events, interviewing musicians and sports stars about issues that really matter (not just how many touchdowns they made or how many records they've sold). The work of professional writers is also included to make for a broad range of perspectives in the treatment of each subject matter.
Positive Spin Magazine originated with Robert Hawkins, founder of the SPIN Foundation. Mr. Hawkins holds a Master's degree in Social Work from the University of Kentucky and is a social worker at Jefferson High School in Lakewood, Colorado, a west-central suburb of Denver. Hawkins' interest in journalism began while playing professional football in Oakland and St. Louis. Through this, he became aware of the need for student athletes to receive support in making wise choices and began to form an idea for a publication that would do just that.