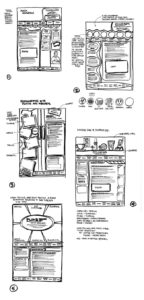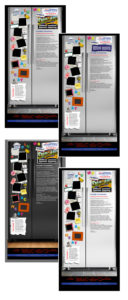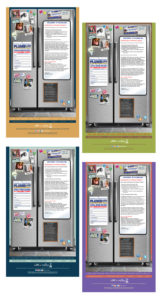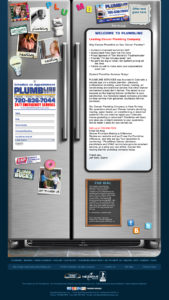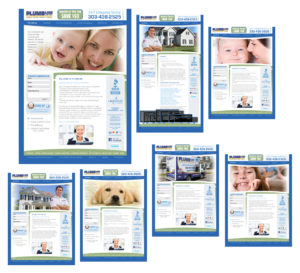 Plumbline Services Website Conceptual Sketches and Design Layouts
This is a client I created branding and marketing pieces for while working at Denver Advertising.
The client wanted to re-design their website by creating something a little more feminine but that had a fun and different style to it. These five conceptual sketches show designs ranging from simple, to more complex and creative. They were designed to be very interactive and animated. The client chose to move forward with the refrigerator concept which originally was concepted to include sound and video when a visitor would mouse over a photo or element that was placed on the fridge. For instance, the photo of two sets of feet in front of the fire which represented "heating", when moused over, would make the sound of a crackling fire in the fireplace. The photo of a faucet with dripping water representing "plumbing", when moused over, would make the sound of drops of water into a sink. The light bulb magnet representing "electrical" would light up when moused over. We also had some fun ones which included a toilet magnet. The toilet magnet which represented "drain cleaning" would make a flushing sound when moused over. All photos and magnet images, when clicked, would lead the visitor into the site to that particular page. I have also included images that show how the concept evolved to the final art. The refrigerator website design stayed up for about 6 months, but the client felt it was too much of a novelty and wanted a cleaner, more feminine look.
These next screenshots show how the simpler, cleaner, and more feminine layouts looked when finished. I designed the site to have a simple header with navigation underneath, and then a large piece that included an animation slide show displaying happy customers, family life, homes, and the Plumbline Services delivery truck and serviceman. Quicklinks were part of the upper navigation, but if a visitor scrolled to the bottom and hovered over each sectional word, a panel would pop up and show the different pages within that section. The site design has changed since these two concepts were executed.
Plumbline Services, Inc. is a family owned local Denver company providing plumbing, heating, cooling, electrical, drain and rooter services for both the home owner and commercial clients.  They have been proudly serving the Denver Metropolitan Area for over 10 years and pride themselves on their impeccable service and quality customer care. They have a fleet of easily identified service vehicles loaded with the latest parts, equipment and tools to handle most jobs. They hire only experienced, career minded individuals and continuously and rigorously train on all aspects of the job.  From technical expertise to delivering an amazing client experience, they are dedicated to the reality of their slogan, "Our Reputation is Comforting".  Their Home Care Professionals are always uniformed, courteous and carry picture identification for the customer's protection.  Plumbline Services is licensed in all municipalities and serves the entire Denver metro area from Castle Rock to Longmont.