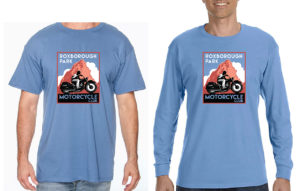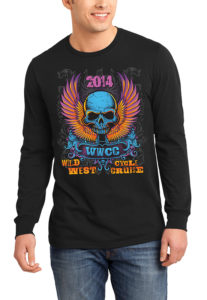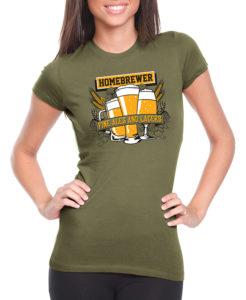 T-shirts were originally worn as undershirts. Now T-shirts are worn frequently as the only piece of clothing on the top half of the body, other than possibly a bra or an undershirt. T-shirts have also become a medium for self-expression and advertising, with any imaginable combination of words, art and photographs on display.
A T-shirt typically extends to the waist. Variants of the T-shirt, like the tank top, crew neck, A-shirt (with the nickname "wife beater"), muscle shirt, scoop neck, and V-neck have been developed. Hip hop fashion calls for "tall-T" T-shirts which may extend down to the knees. A 1990s trend in women's clothing involved tight-fitting "cropped" T-shirts short enough to reveal the midriff. Another popular trend is wearing a short-sleeved T-shirt of a contrasting color over a long-sleeved T-shirt. This is known as "layering". T-shirts that are tight to the body are called fitted, tailored or "baby doll" t-shirts.
In the early 1950s several companies based in Miami, Florida, started to decorate T-shirts with different resort names and various characters. The first company was Tropix Togs, under founder Sam Kantor, in Miami. They were the original license for Walt Disney characters that included Mickey Mouse and Davy Crockett. Later, other companies expanded into the T-shirt printing business, including Sherry Manufacturing Company, also based in Miami. Sherry started in 1948 by its owner and founder Quinton Sandler as a screen print scarf business and evolved into one of the largest screen printed resort and licensed apparel companies in the United States.
In the 1960s, the ringer T-shirt appeared and became a staple fashion for youth and rock-n-rollers. The decade also saw the emergence of tie-dyeing and screen-printing on the basic T-shirt and the T-shirt became a medium for wearable art, commercial advertising, souvenir messages and protest art messages. Psychedelic art poster designer Warren Dayton pioneered several political, protest, and pop-culture art T-shirts featuring images of Cesar Chavez, political cartoons, and other cultural icons in an article in the Los Angeles Times magazine in late 1969.
Today, many notable and memorable T-shirts produced in the 1970s have now become ensconced in pop culture. Examples include the bright yellow happy face T-shirts, The Rolling Stones tops with their "tongue and lips"[7] logo, and Milton Glaser's iconic "I ♥ N Y" design. In the mid-1980s, the white T-shirt became fashionable after the actor Don Johnson wore it with an Armani suit in Miami Vice.
The most common form of commercial T-shirt decoration is screen-printing. In screen-printing, a design is separated into individual colors. Plastisol or water based inks are applied to the shirt through mesh screens which limits the areas where ink is deposited. In most commercial T-shirt printing, the specific colors in the design are used. To achieve a wider color spectrum with a limited number of colors, process printing (using only cyan, magenta, yellow and black ink) or simulated process (using only white, black, red, green, blue, and gold ink) is effective. Process printing is best suited for light colored shirts. Simulated process is best suited for dark colored shirts. Very few companies continue to use water-based inks on their shirts. The majority of other companies that create shirts prefer to use plastisol due to the ability to print on varying colors without the need for color adjustment at the art level. In 1959, plastisol, a more durable and stretchable ink, was invented, allowing much more variety in T-shirt designs.
Other methods of decoration used on T-shirts include airbrush, applique, embroidery, impressing or embossing, and the ironing on of either flock lettering, heat transfers, or dye-sublimation transfers.
Since the 1980s, T-shirts have flourished as a form of personal expression.