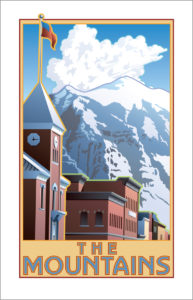 The Mountains (of Colorado) Poster
This poster was originally part of a series of illustrations created for the Real Estate issue of Colorado Homes & Gardens Magazine in 2008. They were used on the intro pages for each section of the magazine to show the variety of places in Colorado. The magazine wanted to use my simplistic retro "travel poster" style for each of the illustrations. The four sections in the issue include Denver, The Front Range, The Mountains, and The Western Slope.
This poster includes buildings from downtown Telluride and the San Juan Mountains in the background. The typography was also meant to look retro within the piece. Created in Adobe Illustrator, I am able to enlarge and reduce the illustration without loss of quality. I call this the "travel poster" look which is a simplistic graphic illustration style but with more gradations than the old world travel posters from the 1930's and 40's. The process: I first create rough sketches. Then I tighten up each part as a pencil sketch and scan the drawing into the computer. I then use this scan as an underlay importing it into Adobe Illustrator. Each part of the image is created as a shape and eventually I fill the shapes in with color. After the color palette is established, I then create simple gradations to allow the image to have some depth.
This piece has been printed as a giclee on watercolor paper. Colorado Homes & Lifestyles magazine is written for Colorado homeowners. Each issue of Colorado Homes & Lifestyles magazine features articles about architecture, design and decorating, entertaining, luxury real estate and more. It has been developed as part of my Colorado Vintage Travel Poster series.
The town of Telluride is a former silver mining camp on the San Miguel River in the western San Juan Mountains. The first gold mining claim was made in the mountains above Telluride in 1875 and early settlement of what is now Telluride followed. The town itself was founded in 1878 as "Columbia," but due to confusion with a California town of the same name, was renamed Telluride in 1887, for the gold telluride minerals found in other parts of Colorado. These telluride minerals were never located near Telluride, causing the town to be named for a mineral which never was mined there. However, the area's mines for some years provided zinc, lead, copper, silver, and other gold ores. Telluride sits in a box canyon. Steep forested mountains and cliffs surround it, with Bridal Veil Falls at the head of the canyon. Numerous weathered ruins of old mining operations dot the hillsides. A free gondola connects the town with its companion town, Mountain Village, Colorado, at the base of the ski area. Telluride and the surrounding area have featured prominently in pop culture. It is the subject of several popular songs. It is especially known for its ski resort and slopes during the winter as well as an extensive festival schedule during the summer.