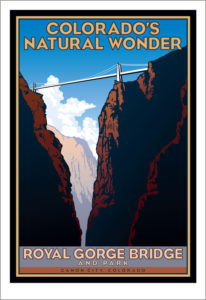 Royal Gorge Poster "Colorado's Natural Wonder"
After creating the illustrations featured in the Colorado Homes & Gardens Real Estate Issue that had a retro "travel poster" look to them (Denver, The Front Range, The Mountains, and The Western Slope), an art director working for an ad agency in Colorado Springs called me up and asked me to create a similar look for their client, The Royal Gorge Park, just outside Canon City, Colorado. The art director supplied me with some photographic reference and I was able to illustrate this poster from the viewpoint down inside the gorge looking up at the bridge. The final piece was applied to billboards, posters, banners, brochures, and merchandise such as coffee mugs, shot glasses, towels, and t-shirts. It has been developed as part of my Colorado Vintage Travel Poster series. Created in Adobe Illustrator, I am able to enlarge and reduce the illustration without loss of quality. I call this the "travel poster" look which is a simplistic graphic illustration style but with more gradations than the old world travel posters from the 1930's and 40's. The process: I first create rough sketches. Then I tighten up each part as a pencil sketch and scan the drawing into the computer. I then use this scan as an underlay importing it into Adobe Illustrator. Each part of the image is created as a shape and eventually I fill the shapes in with color. After the color palette is established, I then create simple gradations to allow the image to have some depth.
The Royal Gorge is a canyon on the Arkansas River near Cañon City, Colorado. With a width of 50 feet (15 m) at its base and a few hundred feet at its top, and a depth of 1,250 feet (380 m) in places, the 10-mile-long canyon is a narrow, steep gorge through the granite of Fremont Peak. It is one of the deepest canyons in Colorado. The Gorge was created some three million years ago when a trickle of water first began to slowly carve a canyon out of the solid granite bedrock. Today that trickle is the raging Arkansas, one of America's longest rivers. And the masterpiece that it continues to carve at a rate of one foot every 2,500 years is the Royal Gorge in Cañon City, Colorado.  The Royal Gorge is considered a world wonder, and is often referred to as the Grand Canyon of the Arkansas River. Yet it's unlike any other canyon. The width at the canyon bottom is no more than 40 to 50 feet, while the top measures only a few hundred feet wide.
Honorable Mention
Colorado Alliance of Illustrator's  Lead Heads at the Lounge Show
Honorable Mention – Best Use Of Composition: Royal Gorge Poster created for Praco Advertising in Colorado Springs, CO.
April/May 2008, Denver, Colorado