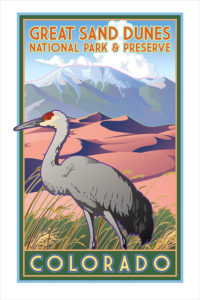 This poster has been developed as part of my Colorado Vintage Travel Poster series. Created in Adobe Illustrator, I am able to enlarge and reduce the illustration without loss of quality.
I call this the "travel poster" look which is a simplistic graphic illustration style but with more gradations than the old world travel posters from the 1930's and 40's. The process: I first create rough sketches. Then I tighten up each part as a pencil sketch and scan the drawing into the computer. I then use this scan as an underlay importing it into Adobe Illustrator. Each part of the image is created as a shape and eventually I fill the shapes in with color. After the color palette is established, I then create simple gradations to allow the image to have some depth. This piece has been printed as a giclee on watercolor paper.
Great Sand Dunes National Park and Preserve is a United States National Park located in the San Luis Valley, in the easternmost parts of Alamosa County and Saguache County, Colorado. Originally created as Great Sand Dunes National Monument on March 17, 1932, Great Sand Dunes National Park and Preserve was established by an act of the United States Congress on September 13, 2004. The park includes 44,246 acres, and the preserve protects an additional 41,686 acres.
The park contains the tallest sand dunes in North America, rising to a maximum height of 750 feet from the floor of the San Luis Valley on the western base of the Sangre de Cristo Range, covering about 19,000 acres. Researchers say that the dunes started forming less than 440,000 years ago.
The dunes were formed from sand and soil deposits of the Rio Grande and its tributaries, flowing through the San Luis Valley. Over the ages, glaciers feeding the river and the vast lake that existed upon the valley melted, and the waters evaporated. Westerly winds picked up sand particles from the lake and river flood plain. As the wind lost power before crossing the Sangre de Cristo Range, the sand was deposited on the east edge of the valley. This process continues, and the dunes are slowly growing. The wind changes the shape of the dunes daily.
The Sandhill Crane is a species of large crane of North America and is one of the inhabitants of the sand dunes. The common name of this bird refers to habitat like that at the Platte River, on the edge of Nebraska's Sandhills on the American Plains. Sandhill cranes gather in the San Luis Valley for about two months in spring and fall during their seasonal migrations. Cranes usually spend their days in farm fields or grasslands eating grains. There is often a flock of cranes along County Lane 6, which runs along the southern boundary of the park. In the evening they head to wetlands to spend the night.