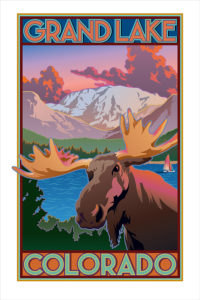 Grand Lake Poster (with moose)
This poster has been developed as part of my Colorado Vintage Travel Poster series. Created in Adobe Illustrator, I am able to enlarge and reduce the illustration without loss of quality.
I call this the "travel poster" look which is a simplistic graphic illustration style but with more gradations than the old world travel posters from the 1930's and 40's. The process: I first create rough sketches. Then I tighten up each part as a pencil sketch and scan the drawing into the computer. I then use this scan as an underlay importing it into Adobe Illustrator. Each part of the image is created as a shape and eventually I fill the shapes in with color. After the color palette is established, I then create simple gradations to allow the image to have some depth. This piece has been printed as a giclee on watercolor paper.
Grand Lake is Colorado's largest and deepest natural lake. It is located in the headwaters of the Colorado River in Grand County, Colorado. On its north shore is located the historic and eponymous town of Grand Lake. The lake fills a glaciated valley that is dammed in part by glacial till from the Pinedale Glaciation, and is younger than about 12,000 years. Natural tributaries to the lake are the North Inlet and East Inlet, both of which flow out of Rocky Mountain National Park, which surrounds the lake on three sides: Grand Lake is located 1 mile from the Park's western entrance. Grand Lake was named Spirit Lake by the Ute Tribe because they believed the lake's cold waters to be the dwelling place of departed souls.
Mount Craig, also known as "Mount Baldy" due to its uncovered peak, sits on the shores of Grand Lake and reaches 12,007 feet in elevation.
The moose (North America) is the largest extant species in the deer family. Moose are distinguished by the broad, flat (or palmate) antlers of the males; other members of the family have antlers with a dendritic ("twig-like") configuration. Moose typically inhabit boreal forests and temperate broadleaf and mixed forests of the Northern Hemisphere in temperate to subarctic climates. Hunting and other human activities have caused a reduction in the size of the moose's range over time. Moose have been reintroduced to some of their former habitats. Their diet consists of both terrestrial and aquatic vegetation. The most common moose predators are the gray wolf along with bears and humans. Unlike most other deer species, moose are solitary animals and do not form herds. Although generally slow-moving and sedentary, moose can become aggressive and move quickly if angered or startled. Their mating season in the autumn features energetic fights between males competing for a female.