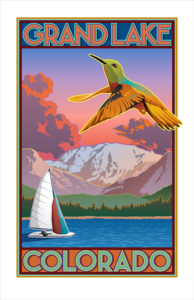 This poster has been developed as part of my Colorado Vintage Travel Poster series. Created in Adobe Illustrator, I am able to enlarge and reduce the illustration without loss of quality.
I call this the "travel poster" look which is a simplistic graphic illustration style but with more gradations than the old world travel posters from the 1930's and 40's. The process: I first create rough sketches. Then I tighten up each part as a pencil sketch and scan the drawing into the computer. I then use this scan as an underlay importing it into Adobe Illustrator. Each part of the image is created as a shape and eventually I fill the shapes in with color. After the color palette is established, I then create simple gradations to allow the image to have some depth. This piece has been printed as a giclee on watercolor paper.
Grand Lake is Colorado's largest and deepest natural lake. It is located in the headwaters of the Colorado River in Grand County, Colorado. On its north shore is located the historic and eponymous town of Grand Lake. The lake fills a glaciated valley that is dammed in part by glacial till from the Pinedale Glaciation, and is younger than about 12,000 years. Natural tributaries to the lake are the North Inlet and East Inlet, both of which flow out of Rocky Mountain National Park, which surrounds the lake on three sides: Grand Lake is located 1 mile from the Park's western entrance. Grand Lake was named Spirit Lake by the Ute Tribe because they believed the lake's cold waters to be the dwelling place of departed souls.
Mount Craig, also known as "Mount Baldy" due to its uncovered peak, sits on the shores of Grand Lake and reaches 12,007 feet in elevation.
Hummingbirds are birds from the Americas that constitute the family Trochilidae. They are among the smallest of birds, most species measuring 7.5–13 cm (3–5 in) in length. The smallest extant bird species is a hummingbird, the 5-cm bee hummingbird weighing less than 2.5 g.
They are known as hummingbirds because of the humming sound created by their beating wings which flap at high frequencies audible to humans. They hover in mid-air at rapid wing-flapping rates, typically around 70 to 80 times per second, allowing them also to fly at speeds exceeding 15 m/s (54 km/h; 34 mph).