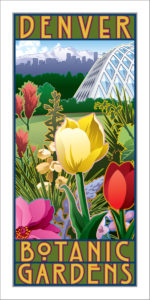 Denver Botanic Gardens Poster
Using pieces from a previous illustration created for the 2009 Real Estate issue of Colorado Homes & Gardens Magazine, I was able to design this retro style poster. I call this the "travel poster" look which is a simplistic graphic illustration style but with more gradations than the old world travel posters from the 1930's and 40's. The process: I first create rough sketches. Then I tighten up each part as a pencil sketch and scan the drawing into the computer. I then use this scan as an underlay importing it into Adobe Illustrator. Each part of the image is created as a shape and eventually I fill the shapes in with color. After the color palette is established, I then create simple gradations to allow the image to have some depth.
This piece has been printed as a giclee on watercolor paper. The typography was also meant to look retro within the piece. Colorado Homes & Lifestyles magazine is written for Colorado homeowners. Each issue of Colorado Homes & Lifestyles magazine features articles about architecture, design and decorating, entertaining, luxury real estate and more. It has been developed as part of my Colorado Vintage Travel Poster series.
The Denver Botanic Gardens is a public botanical garden located in the Cheesman Park neighborhood of Denver, Colorado. The 23-acre park contains a conservatory, a variety of theme gardens and a sunken amphitheater, which hosts various concerts in the summer.
Denver Botanic Gardens features North America's largest collection of plants from cold temperate climates around the world, as well as 7 diverse gardens that mostly include plants from Colorado and neighboring states.
The world's first Xeriscape Demonstration Garden was created at the Gardens in 1986, and 2 years later its name was changed to Dryland Mesa. It was based on the "7 Principles" of Xeriscape, and includes drought-tolerant plants from the arid West and Mediterranean areas.
The Japanese Garden at the Denver Botanic Gardens
The Japanese Garden is called Shofu-en—the Garden of Wind and Pines. It was designed by Koichi Kawana in collaboration with Kai Kwahara.
The York Street location of the Botanic Gardens opened Denver's 1st publicly accessible green roof.