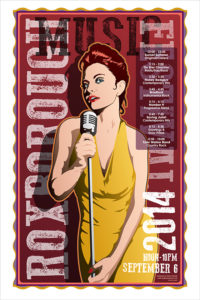 Roxborough Music Festival 2014
This poster was created to promote a music festival in the Roxborough "Market Place" to benefit the Roxborough community and promote musicians and musical groups in the area. It features an original illustration of a woman singer in front of a typographical background. The background is also meant to reflect the color of the red rocks within the area of Roxborough.  This poster was printed and placed within the shops of vendors to help create awareness of the event. It was also used on flyers and as a direct mail piece.
The all day music event featured bands and musicians including Saving Juliet (Contemporary Hits), The Honey Badgers (Contemporary Hits), Sunset Summer (Originals/Covers), The Star Charmer (Roots/Pop/Rock), Bradford (Instrumental Rock), Number 9 (Progressive Metal), and The Tyler Walker Band (Country Rock).
Roxborougn is a residential area located in the southwest region of Littleton, Colorado, in Douglas County and is set within spectacular red rock formations at the base of Pike National Forest. One of the most scenic golf courses in Colorado, Arrowhead Golf Club, is set with the Roxborough Park community. The geological red rock formations located here are more than 1 billion years old. This area easily blends together with the mountains and plains to form a unique climate for numerous species of wildlife and plant life. Roxborough State Park, also in the region, offers local residents and visitors a network of hiking and biking trails, cross-country skiing, and sightseeing. The visitor's center has many educational programs for Colorado geology, wildlife, and history.