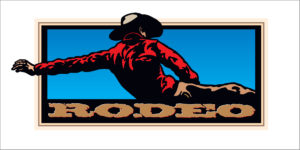 Rodeo Poster (horizontal)
Originally created as part of a logo while working for Busch Creative Services in St. Louis, Missouri, I re-created this illustration as a poster print. This image was created to be presented to the brand team for Bud Light Rodeo promotional pieces. I recently resurrected some illustrations and have used them as part of my retro poster series.  I wanted to show a cowboy either bull riding or bronc riding, but excluded the animal so the image could be either one or the other.
Rodeo is a competitive sport which arose out of the working practices of cattle herding in Spain, Mexico, and later the United States, Canada, South America and Australia. It was based on the skills required of the working vaqueros and later, cowboys, in what today is the western United States, western Canada, and northern Mexico. Today it is a sporting event that consists of events that involve horses and other livestock, designed to test the skill and speed of the human cowboy and cowgirl athletes who participate. Professional rodeos generally comprise the following events: tie-down roping, team roping, steer wrestling, saddle bronc riding, bareback bronc riding, bull riding and barrel racing. The events are divided into two basic categories: the rough stock events and the timed events. Depending on sanctioning organization and region, other events such as breakaway roping, goat tying, or pole bending may also be a part of some rodeos.