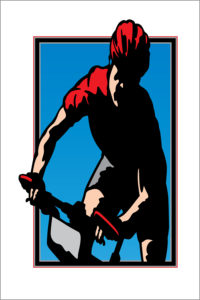 Mountain Biker
This graphic illustration was created as part of the conceptual ideas for the Fat Tire Classic logo from 1996. After sending sketches for the logo ideas, I decided to work this image up as an illustration for this poster.
The Fat Tire Classic, sponsored by Fat Tire Beer from New Belgium Brewery in Fort Collins, Colorado, was a two day mountain bike ride benefiting the American Red Cross.
New Belgium Brewing Company is a regional brewery located in Fort Collins, Colorado. It opened in 1991 after Jeff Lebesch, the brewery's founder, took his homebrewing passion commercial. In 2009, it produced over 582,000 barrels of its various labels. As of 2010, it was the third-largest craft brewery and seventh-largest overall brewery in the United States. Fat Tire, an amber ale, is the company's flagship beer. The Fat Tire recipe originates from a co-founder's bicycle trip through Belgium from brewery to brewery. In 2006 New Belgium Brewery changed its logo and did so because the company realized that beer drinkers could identify the Fat Tire label, but "didn't recognize the brewery label, or make the connection that New Belgium brewed Fat Tire and other best-selling brands, such as Sunshine Wheat." The company's new logo "pays homage to the well-known Fat Tire brand bicycle" drawn by Anne Fitch.