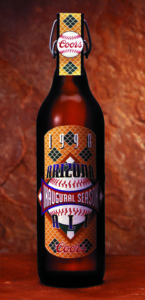 Coors Inaugural Season Arizona Ale (Arizona Diamondbacks) Beer Label
This label design and artwork was created for The Integer Group in Lakewood, Colorado. The art director at Integer had me create the final art for a commemorative beer label for the inaugural season of the expansion baseball team, the Arizona Diamondbacks. The label consisted of a baseball, a baseball diamond, the Coors logo, all on a snakeskin background. The bottle was designed similarly to the Grolch Beer bottle with a swing-top cap, eliminating the need for a bottle opener.
The Arizona Diamondbacks are a professional baseball team based in Phoenix. They play in the West Division of Major League Baseball's National League. From 1998 to the present, they have played in Chase Field. Also known as the D-Backs, Arizona has one World Series title, in 2001, becoming the fastest expansion team in the majors to win a championship, doing it in only the fourth season since their expansion in 1998.