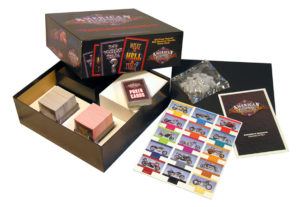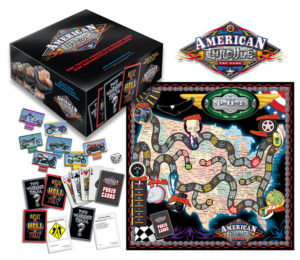 After creating a logo and an initial prototype, myself and a partner decided to take this game concept to print production. I created the overall look and design of this product which included the box packaging, the game pieces, the game board, and two sets of trivia cards (300 in each set). Other parts included with the game: a set of poker cards, plastic game piece holders and a die. The packaging and layout of the game board and game pieces were designed and illustrated by myself, with input from my partner. I incorporated the look of "americana" and "biker" utilizing a theme of chrome, flames, and even graphics from the sport bike forum. American Throttle, The Game is a board game that's based on a "Poker Run" that tours the United States.
While playing, you will share stories of rallies you've been to like Laughlin, Sturgis or Daytona. Belch a name, take a swig of your drink, tell a joke, name that song, guess who was in that biker movie, or even give unwanted or wanted advice! The game tests your knowledge of motorcycling, motorcycle trivia, and road skills. You can even invite your family or friends who don't ride, since they can play to win too! They will learn a lot about riding either from you or this game! There are two ways to win: finish first to win half the game, draw the best poker hand to win the other half of the game. It's smarts and luck.
This is a drinking game, so it is geared toward adults. However if you forego the alcohol and let young adults in on the fun, American Throttle is actually a general audience, sometimes educational, definitely fun game for them too. In other words, we didn't put in a bunch of junk. This is about riding!
Here is how it is played: Up to seven players or teams of players per game. Put money (or anything you would like) in the Pot. Pick one of 15 motorcycle playing pieces & take your first poker card. Start in the upper northwest and roll the die to tour the country. Pick another poker card at each rally you visit. The person to reach the end, or Hollister Rally first wins half the Pot. The person with the best poker hand wins the other half of the Pot. So, anyone can win!
Unfortunately this product is no longer available.