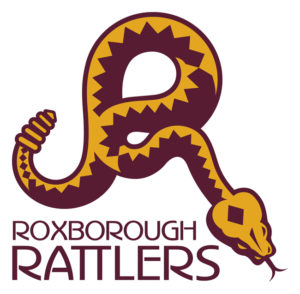 Roxborough Rattlers Logo
This logo was created for an elementary school in Roxborough, Colorado. Their mascot is a rattlesnake, so when I created pencil sketches for their brand, I incorporated the rattlesnake into the concepts. This image was chosen and after creating the logo digitally, I sent color ideas to them for approval. The concept behind this logo is that the rattlesnake graphic creates the "R" for Roxborough and Rattlers.
Roxborough Primary and Intermediate School is a community school, serving students in the Roxborough area from Preschool through 6th grade. The school is comprised of two buildings; a recently remodeled Primary Building serving students in Kindergarten through 2nd grade, and a new Intermediate Building serving students in 3rd through 6th Grade. They provide a world-class education to all of their students through personalized instruction, integrated state of the art technology, and a strong partnership between parents, students, and staff.
Roxborough is a residential area located in the southwest region of Littleton, Colorado, in Douglas County and is set within spectacular red rock formations at the base of Pike National Forest. One of the most scenic golf courses in Colorado, Arrowhead Golf Club, is set with the Roxborough Park community. The geological red rock formations located here are more than 1 billion years old. This area easily blends together with the mountains and plains to form a unique climate for numerous species of wildlife and plant life. Roxborough State Park, also in the region, offers local residents and visitors a network of hiking and biking trails, cross-country skiing, and sightseeing. The visitor's center has many educational programs for Colorado geology, wildlife, and history.