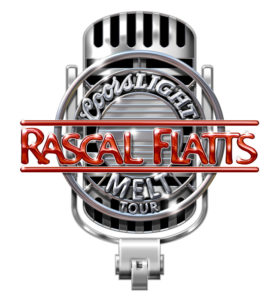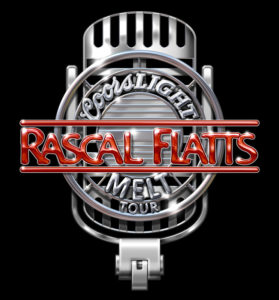 Coors Light Rascal Flatts Melt Tour Logo
This logo was created for The Integer Group in Lakewood, Colorado. After presenting 3 to 4 color comps to the art director, I was asked to create this logo for the Coors Light sponsored tour to be used on point-of-purchase and marketing materials. Since it was Coors Light sponsored, and at the time all Coors Light imagery was based on "silver" and "shiny", I created this metallic vintage microphone with chrome type in chrome rings and the Rascal Flatts logo in a red shiny texture.
The image was created as a high resolution piece of final art in Adobe Photoshop so it could be used on larger pieces including posters, banners, and danglers.
Rascal Flatts is an American country music group composed of Gary LeVox (lead vocals), Jay DeMarcus (bass guitar, keyboard, piano, vocals) and Joe Don Rooney (lead guitar, vocals). LeVox and DeMarcus are second cousins. During the 2000–10 decade, Rascal Flatts recorded for Disney Music Group's Lyric Street Records. While on that label, the band released seven albums, all of which have been certified platinum or higher by the Recording Industry Association of America (RIAA). In order of release, these albums are Rascal Flatts (2000), Melt (2002), Feels Like Today (2004), Me and My Gang (2006), Still Feels Good (2007), Greatest Hits Volume 1 (2008) and Unstoppable (2009). After Lyric Street closed in 2010, Rascal Flatts moved to the independent Big Machine Records, releasing Nothing Like This in November 2010. Their eighth studio album, Changed, was released in April 2012. Rascal Flatts' studio albums have accounted for 26 single releases. All of these have charted within the top 20 or higher on the Billboard Hot Country Songs charts, including 12 which reached number one. The band's longest-lasting number-one single, a cover of Marcus Hummon's "Bless the Broken Road", spent five weeks in that position in early 2005. The late 2005–early 2006 release "What Hurts the Most" was a number one on both the country and adult contemporary charts, and peaked at number six on the Billboard Hot 100. Melt was the title of their second album, released in 2002. Unlike their previous album, Rascal Flatts co-produced Melt. Its first single, "These Days", also became their first number-one single on the country charts. The album included two more top ten hits, "Love You Out Loud" and "I Melt", and the band's second number-one single, "Mayberry".