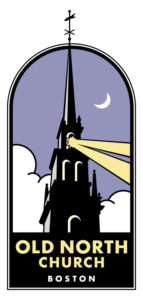 Old North Church Boston Logo
This logo was created for The Old North Church in Boston, Massachusetts. The client called me up after seeing some of my simplistic graphic illustration pieces and wanted a logo for their gift shop items. They wanted a 2 or 3 color logo that could be printed on items such as coffee mugs, glasses, cups, and that could also be silkscreened onto sweatshirts, t-shirts, aprons, tote bags, and umbrellas. The image could also easily be embroidered onto polo shirts, hats, and caps.
Old North Church (officially, Christ Church in the City of Boston), at 193 Salem Street, in the North End of Boston, is the location from which the famous "One if by land, and two if by sea" signal is said to have been sent. This phrase is related to Paul Revere's midnight ride, of April 18, 1775, which preceded the Battles of Lexington and Concord during the American Revolution. The church is a parish of the Episcopal Diocese of Massachusetts. It is the oldest active church building in Boston and is a National Historic Landmark. Inside the church is a bust of George Washington, which the Marquis de Lafayette reportedly remarked was the best likeness of him he had ever seen.
Print Magazine
Print's Regional Design Annual 2000
Certificate of Design Excellence: Logo for The Old North Church, Boston.
October 2000
Awards