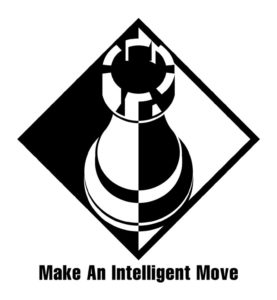 Make An Intelligent Move Real Estate Logo
This logo was created for a real estate agent in Littleton, Colorado. The owner approached me with having his own branded look, instead of using the overall umbrella look of ReMax. The idea behind the logo is that the rook, in chess, is a castle. Everyone knows the phrase "A man's home is his castle" which roughly translated is an expression of personal privacy and security. Since the rook is the castle in chess, the client wanted to play on the game as being an intelligent game, so he came up with the phrase "Make An Intelligent Move" to relate to real estate being an intelligent business, and moving needs to have an agent that is intelligent. A real estate broker or real estate agent is a person who acts as an intermediary between sellers and buyers of real estate/real property and attempts to find sellers who wish to sell and buyers who wish to buy. In the United States, the relationship was originally established by reference to the English common law of agency, with the broker having a fiduciary relationship with his clients.
Real estate brokers and their salespersons (commonly called "real estate agents" or, in some states, "brokers") assist sellers in marketing their property and selling it for the highest possible price under the best terms. When acting as a buyer's agent with a signed agreement (or, in many cases, verbal agreement, although a broker may not be legally entitled to his commission unless the agreement is in writing), they assist buyers by helping them purchase property for the lowest possible price under the best terms. A real estate broker owes his client fiduciary duties, those duties include care, confidentiality, loyalty, obedience,accounting & disclosure. A real estate broker owes his customer fair & honest dealing. A real estate broker must request all parties (seller & buyer) sign a dual agency agreement, to protect their license.
Chess is a two-player strategy board game played on a chessboard, a checkered gameboard with 64 squares arranged in an eight-by-eight grid. It is one of the world's most popular games, played by millions of people worldwide at home, in clubs, online, by correspondence, and in tournaments. Each player begins the game with 16 pieces: one king, one queen, two rooks, two knights, two bishops, and eight pawns. Each of the six piece types moves differently. Pieces are used to attack and capture the opponent's pieces, with the objective to 'checkmate' the opponent's king by placing it under an inescapable threat of capture. In addition to checkmate, the game can be won by the voluntary resignation of the opponent, which typically occurs when too much material is lost, or if checkmate appears unavoidable. A game may also result in a draw in several ways, where neither player wins. The course of the game is divided into three phases: opening, middlegame, and endgame. Chess is a recognized sport of the International Olympic Committee and international chess competition is sanctioned by the World Chess Federation (FIDE), which adopted the now-standard Staunton chess set in 1924 for use in all official games. There are also many chess variants, with different rules, different pieces, and different boards.