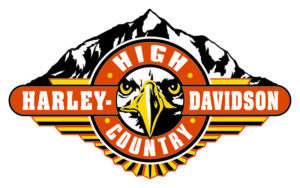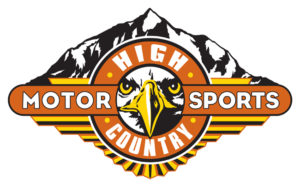 High Country Harley-Davidson Logo
Because of the work I did with Mile High Harley-Davidson, creating their branded logo, and the fact that I was looking to buy a new motorcycle and happened to be in High Country Harley's dealership, I was able to put a bid in on creating their new look. Once they signed off, I sent multiple pencil concept sketches to the client and was able to take this piece to finished art. Some of the early sketches featured images like motorcycles, eagles, mountains, mountain peaks, and other miscellaneous motorcycle visuals. The client signed off on this image which features a mountain, an eagle's head, and graphics that look like wings. Color variations were sent for the client to choose and we ended up with this three color version; black, orange, and yellow.
Harley-Davidson Inc, often abbreviated H-D or Harley, is an American motorcycle manufacturer founded in Milwaukee, Wisconsin, during the first decade of the 20th century. it was one of two major American motorcycle manufacturers to survive the Great Depression (the other was Indian). Harley-Davidson also survived a period of poor quality control and competition from Japanese manufacturers. The company sells heavyweight (over 750 cc) motorcycles designed for cruising on highways. Harley-Davidson motorcycles (popularly known as "Harleys") have a distinctive design and exhaust note. They are especially noted for the tradition of heavy customization that gave rise to the chopper style of motorcycle. Except for the modern VRSC model family (V-Rod), current Harley-Davidson motorcycles reflect the styles of classic Harley designs. Harley-Davidson's attempts to establish itself in the light motorcycle market have met with limited success and have largely been abandoned since the 1978 sale of its Italian Aermacchi subsidiary. Harley-Davidson sustains a loyal brand community which keeps active through clubs, events, and a museum.
High Country Motor Sports Logo
This logo was re-designed from the High Country Harley-Davidson logo, replacing the words "Harley Davidson" with Motor Sports to encompass their two new dealer locations (three current locations in Frederick, Colorado, Laramie and Cheyenne, Wyoming). The dealerships sell products and services to motorcycle enthusiasts to make their journey even more enjoyable.
Harley-Davidson is all about motorcycles and motorcycling experiences that will be remembered for a lifetime. And it all starts with the motorcycle. The Harley-Davidson dealer is in business to connect motorcycles with owners so owners can fulfill their riding dreams. New Motorcycles includes more than 32 models in 6 motorcycles families. Custom Vehicle Operations (CVO) are limited production motorcycles that are customized with Harley-Davidson Genuine Motor Accessories from the Factory.