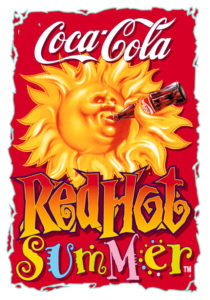 Coca-Cola Red Hot Summer Logo
This logo was created while working at Busch Creative Services in St. Louis, Missouri. As an art director at Busch Creative, a company owned by Anheuser-Busch (link to AB), I was one of the team members in charge of brand direction for beers like Budweiser, Bud Light, Bud Ice, Michelob, Busch, and others. Busch Creative, although owned by Anheuser-Busch, was treated as a separate entity and could therefor obtain other clients. Since our team specialized in marketing and promotions, Coca-Cola approached us to pitch ideas for their upcoming Coke Red Hot Summer promotion competing against other agencies. The illustration of the Sun drinking a Coke was provided and we were to design the logo based around the sun image.
After deciding on the logo they liked, the company that created it would win the project and design the promotional pieces along with the merchandise. Promotional print pieces included posters, banners, counter cards, table tents, displays, and in print advertising. Merchandise included items such as beach towels, sunglasses, travel mugs, jackets, and basketballs.
The Coca-Cola Company teamed with the Fox Broadcasting Company, the Ford Motor Company and more than 250 radio stations across the country for one of its largest promotion ever, called "Red Hot Summer." The program was intended to increase sales of Coca-Cola brands during the summer season. It offered $350 million worth of prizes and discounts, on items including Ford Mustang convertibles and Sega video games, through an instant-win promotion involving bottle caps, cup labels and game cards.
Coca-Cola is a carbonated soft drink sold in stores, restaurants, and vending machines in every country except Cuba and North Korea. It is produced by The Coca-Cola Company of Atlanta, Georgia, and is often referred to simply as Coke (a registered trademark of The Coca-Cola Company in the United States since March 27, 1944). Originally intended as a patent medicine when it was invented in the late 19th century by John Pemberton, Coca-Cola was bought out by businessman Asa Griggs Candler, whose marketing tactics led Coke to its dominance of the world soft-drink market throughout the 20th century. Based on Interbrand's best global brand 2011, Coca-Cola was the world's most valuable brand.