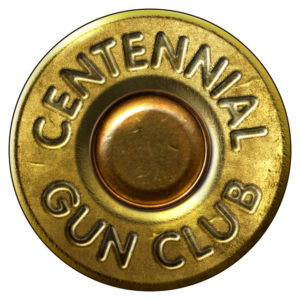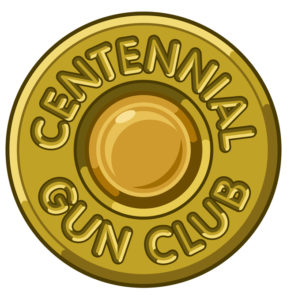 Centennial Gun Club Bullet Logo
While working as a freelancer prior to going to work for Denver Advertising, I was hired to create a logo for Centennial Gun Club, making the image look realistically like the bottom of a bullet. The type had to be made to look like it was embossed into the metal. The final logo had to be created very large in Adobe Photoshop to have a realistic look even when used on large banners.
A flat vector (Adobe Illustrator) version of the logo had to be created after the dimensional logo was completed. The Centennial Gun Club is a gun shooting range located in Centennial, Colorado, a township south and east of Denver.
The Centennial Gun Club is a shooting range and training facility that includes a pro shop with the best selection of handguns, rifles, and shotguns. In addition to firearms, the pro shop offers a selection of ammunition, knives, and miscellaneous accessories for personal protection and sport shooting. The state-of-the-art shooting range offers a programmable targeting retrieval system that includes stationary targets, 360 degree turning targets, and running and disappearing targets. They also offer experienced instructors in their training center to help customers learn skills and methods in beginning and advanced skillets. The courses offered focus on personal safety and confidence in threatening situations by teaching skills in using handguns, rifles, shotguns, and in open hand and edged weapon combat skills trainings.