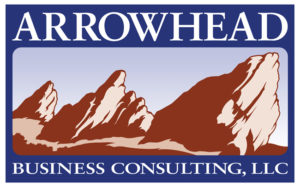 Arrowhead Business Consulting, LLC
The client chose "Arrowhead" as the name of his business to reflect his love of golf as the Arrowhead Golf Club in located in the Roxborough Park neighborhood.
Roxborougn Park is a residential community located in the southwest area of Littleton, Colorado, in Douglas County and is set within spectacular red rock formations at the base of Pike National Forest. The neighborhood surrounds one of the most scenic golf courses in Colorado, Arrowhead Golf Club. The geological red rock formations located here are more than 1 billion years old. This area easily blends together with the mountains and plains to form a unique climate for numerous species of wildlife and plant life.
Roxborough State Park, next door to the neighborhood, offers local residents and visitors a network of hiking and biking trails, cross-country skiing, and sightseeing. The visitor's center has many educational programs for Colorado geology, wildlife, and history. To design this logo, I actually drove through the neighborhood and took photographs of the different red rock formations, then sketched out this series of images to be placed together for the logo.