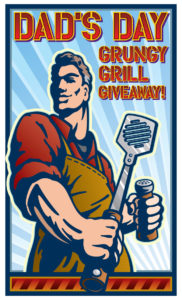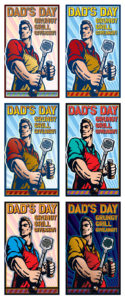 Red Robin Dad's Day Grungy Grill Giveaway
This illustration was created for Red Robin Gourmet Burgers located in Greenwood Village, Colorado. The art director at the corporate office contacted me to develop an illustration with some type to help promote a sweepstakes the restaurant chain was rolling out for Father's Day. The idea was to send in photos of the grungiest grill, and the judges would decide who was in need of a new grill and give a few away. This promotion was also created to drive traffic to the restaurants which is where one would have to go to sign up for the contest. Four sketches were presented (link to comps) and the client chose the more industrial, 1940's look with a dramatic up view (worm's eye view). After the sketch was slightly revised, I scanned the pencil drawing into the computer and placed it into Adobe Illustrator using it as an underlay. I create shapes based on the my drawing and when the shapes are finished, I add color to the pieces. Then color variations using different color palettes can be easily and quickly viewed and were presented to the client. The final illustration chosen had the guy wearing a burgundy shirt, brown apron, and had blue glows in the background.
Red Robin Gourmet Burgers, Inc., together with its subsidiaries, is a casual dining restaurant chain focused on serving an imaginative selection of high quality gourmet burgers in a family-friendly atmosphere. Red Robin was founded in 1969 in Seattle, Washington, and is now headquartered in Greenwood Village, Colorado.  In 1979, the first franchised Red Robin® restaurant was opened in Yakima, Washington. In 2001, they formed Red Robin Gourmet Burgers, Inc., a Delaware corporation, to facilitate a reorganization of the company.