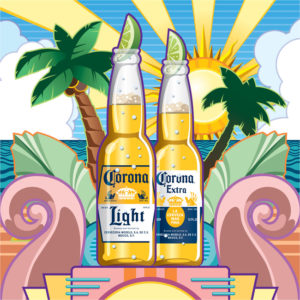 Corona and Corona Light Miami
This illustration was created for McGowan Crain Advertising in St. Louis, Missouri. One of my styles of illustrating is to make the image look and feel like a retro vintage style poster, as if it were created in the 1930's or 1940's, but give it a slight contemporary feel. The art director at McGowan Crain contacted me to produce this piece to promote Corona Extra and Corona Light in the Miami, Florida market. This illustration was used on coasters and a few other marketing pieces. The idea behind this was to incorporate my retro vintage style with the art deco imagery and colors of the Florida area.
Corona Extra is a pale lager produced by Cervecería Modelo in Mexico. It is one of the top-selling beers worldwide. Corona is commonly served with a wedge of lime in the neck of the bottle to add tartness and flavor. In the United States, Corona Extra is the top selling imported beer. McGowan Crain is a multifaceted advertising and marketing firm formed by 20-year advertising and promotions veterans Todd McGowan and Ben Crain. Headquartered in St. Louis, McGowan Crain handles strategic marketing for a variety of national and international brands. A promotions agency with expertise in beverage marketing and advertising.