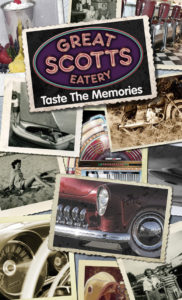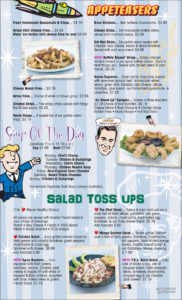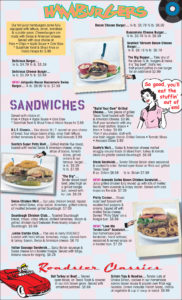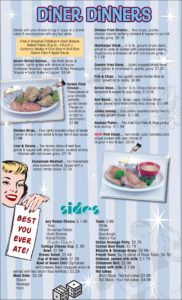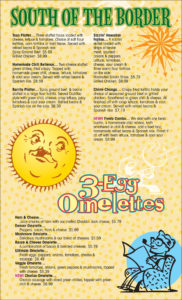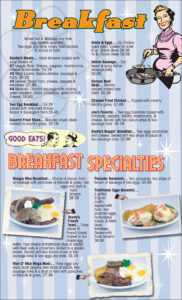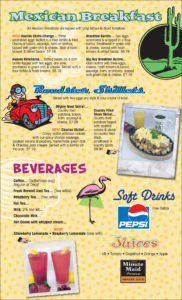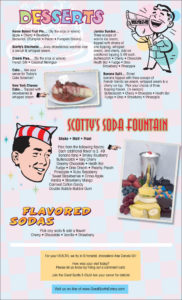 The client was Satori Creative located in Centennial, Colorado. Great Scott's Eatery is an American burger restaurant whose motif pays homage to American diners of the 1940s and 1950s. Vintage decor includes jukeboxes, chrome accents, red and white vinyl seats, custom artwork and period memorabilia. Patrons are served by a waitstaff dressed '50s-style, and the menu offers a lineup of diner breakfasts, juicy burgers, classic sandwiches and dinner entrees, as well as soda fountain shakes, malts, sundaes and homemade pies.
Menu Design 2007
A re-design of the previous menu, with the same concept of a 50's style look, but using a mix of photos and illustrations throughout. The menu was also re-designed to fit into plastic sleeves and not to be die cut or laminated. The photography of the food was supplied by the client along with the text describing the food, and pricing. Each page has it's own different retro background with some vintage illustrations scattered throughout keeping the design fun. The cover features some vintage stock photos from the 50's and some photos from my neighbor who lived through the 1950's. It also includes the jukebox illustration from the previous menu cover.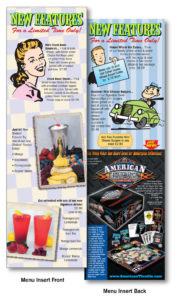 Menu Insert
This menu insert was designed to show limited time "featured" items that don't appear on the main menu. I created the artwork on trade for half of one of the pages. Since I was also a part of American Throttle, The Game, I was able to place an ad on the front of the insert promoting the game, which was also sold at the restaurant.