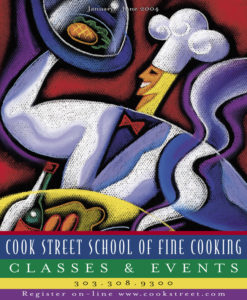 Cook Street School of Fine Cooking, located in downtown Denver, Colorado, is a school to learn the culinary arts. Specifically designed to appeal to students of varied skill levels, aspiring chefs are taught not only the fundamentals of cooking—menu preparation, palate development and wine education, but also about the rich culture, history and heritage of gourmet cuisine. The school teaches knowledge and experience of gourmet cooking and included a trip to Europe to practice in the kitchens of France and Italy.
Calendar and Schedule Direct Mail Brochure
Dining Motif (Illustration) Issue
The main function of this brochure was to be used as a direct mail piece being sent to patrons, faculty, and students of the cooking school, but was also used as a promotional piece for walk-in customers. The brochure prior to my re-design was a large poster printed in two colors and folded down to a mailer. I proposed making the piece a 16 to 20 page brochure that would have less weight but still be easy to mail, and be a full color (four color process), nicer looking piece. The brochure included information about the school, the different programs it had to offer, detailed descriptions about the courses, night time events with wine tasting, and calendar pages for up to 6 months showing times and dates for all events and courses. I designed the pages to have a header with a two column layout so when the brochure was folded for mailing, it wouldn't obstruct the text information on each page. For this 20 page issue (January – June 2004), I encouraged the client to purchase a copyright free compact disc with illustrations of cooking, food, drink, and dining. The illustration style was more contemporary, playful and fun and uses color and texture vividly. Illustrator unknown.