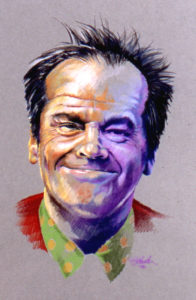 Prismacolor Colored Pencil Drawing
This drawing was created as a Christmas gift for my mother who loves Jack Nicholson as an actor. I used a small printed photo for reference and colored the right side of his face normally, but used purples as side lighting for the left side of his face and had him wearing a polkadot shirt in a red suit. At the time of the drawing, the movie Batman had come out and he played the Joker in the movie. The Joker's attire was usually flamboyant and consisted of purples and other bright colors. John Joseph "Jack" Nicholson is an American actor, film director, producer, and writer. He is known for his often dark portrayals of neurotic characters.
His twelve Oscar nominations make him the most nominated actor of all time. Nicholson has twice won the Academy Award for Best Actor, for One Flew Over the Cuckoo's Nest and for As Good as It Gets. He also won the Academy Award for Best Supporting Actor for the 1983 film Terms of Endearment. He is tied with Walter Brennan for most acting wins by a male actor (three). Nicholson is well known for playing villainous roles, such as Frank Costello in The Departed, Jack Torrance in The Shining and the Joker in 1989's Batman. The paper used is a 12w" x 19h" Speckletone recycled paper. Date of drawing: 1996.