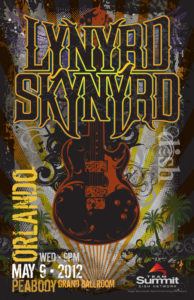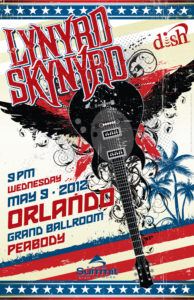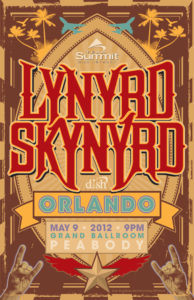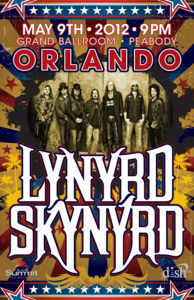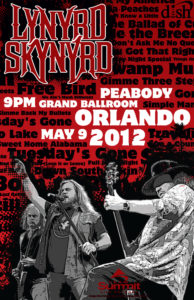 These posters were created to help promote attendance by sales people and retailers at the national convention held by Dish Network. Each year, Dish holds a convention in a specific city within the country and part of tradition of the convention is to have a band play in the evening as entertainment for the participants. These promotional concert posters were created to be sent throughout the field to get them excited about the conference. When designing these posters, I tried to convey the idea of classic Rock n Roll combined with imagery from where the convention was going to take place; Orlando, Florida. All visuals were combined from images downloaded from a stock photo and illustration website except the photos. The photography was supplied by the band.
Lynyrd Skynyrd is an American rock band best known for popularizing the southern hard-rock genre during the 1970s. Originally formed in 1964 in Jacksonville, Florida, the band rose to worldwide recognition on the basis of its driving live performances and signature tunes "Sweet Home Alabama" and "Free Bird." At the peak of their success, three members died in an airplane crash in 1977, putting an abrupt end to the band's most popular incarnation. Surviving members re-formed a decade later for a reunion tour with lead singer Ronnie Van Zant's younger brother Johnny as frontman. A version of the band continues to tour and record, with only Gary Rossington of its original members remaining. Lynyrd Skynyrd was inducted into the Rock and Roll Hall of Fame on March 13, 2006. Upon completing these posters, the band liked the work so much they contacted me directly to have me design their summer concert posters.
Click here to view the summer posters.