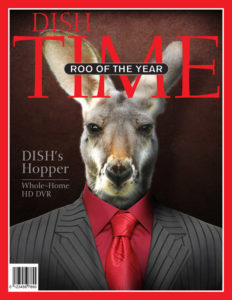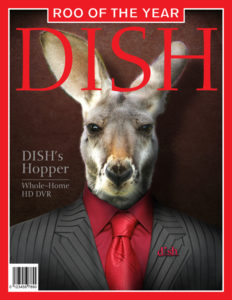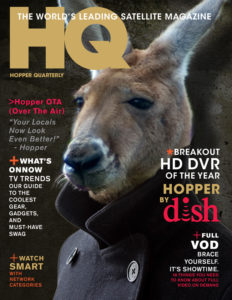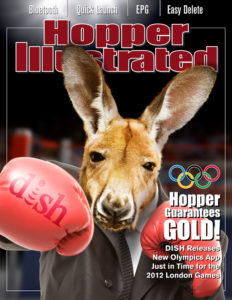 Newsletter Cover Concepts – Magazine Covers
These three images were created to be used as covers of a monthly newsletter that would announce new products or new additions to the Hopper Whole-Home DVR. The idea behind these images was to make the cover of the newsletter look like the cover of a popular magazine.
The first cover, simulating the cover of Time Magazine, uses the concept of the Man of the Year issue. Using Adobe Photoshop and a few photo images downloaded from a stock photo website, I created this photomontage of a Kangaroo in a suit and tie with a Dish pin on his lapel. The design was taken directly from a Man of the Year cover, but instead of Time, I used the same typeface and put in the word DISH.
The second cover idea is a spinoff of the GQ (Gentleman's Quarterly) cover, but instead of GQ, it became HQ (Hopper Quarterly). Again, I pulled a couple photos from a stock site and created a photomontage in Photoshop of this very classy, contemporary kangaroo in an overcoat.
The third cover is a replication of the Sports Illustrated cover, called Hopper Illustrated, using the same format and typefaces. This concept focused on the upcoming Summer Olympics and since boxing is a major event, I created this boxing kangaroo photomontage, again using photography downloaded from a photo stock website.