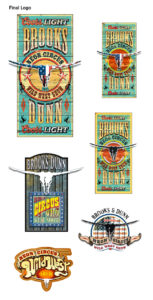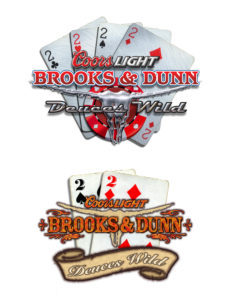 These logos were created for The Integer Group in Lakewood, Colorado. The first set of ideas, the weathered wood logo, were created as comps that were eventually used by the art director as a base to create an actual weathered wood piece with neon pieces to be shot photographically for the Brooks & Dunn Neon Circus and Wild West Show tour sponsored by Coors Light in 2000. After presenting some pencil comps, I proceeded to create these comps digitally, first by creating the wood and galvanized metal pieces, and then "weathering" them through some effects in Adobe Photoshop. They were all meant to have the western theme and coloring also.
The second set of conceptual comps were based on their album called Red Dirt Road for their tour in 2003. The art director wanted these ideas to be based on road signs so I created a few different types of road signs as base images in Photoshop. I started with clean images and then with effects and layering, was able to "distress" the imagery and create a weathered effect showing dents, scratches and rust.
These final comps were created for the Deuces Wild tour in the summer of 2005. The art director wanted to see playing cards in metals along with a western idea for their tour logo.
Brooks & Dunn was an American country music duo consisting of Kix Brooks and Ronnie Dunn, who were both vocalists and songwriters. The duo was founded in 1990 through the suggestion of Tim DuBois. Before the foundation, both members were solo recording artists. Brooks wrote songs for John Conlee, Nitty Gritty Dirt Band and Highway 101 and released a solo album for Capitol Records; both he and Dunn also charted two solo singles apiece in the 1980s.
Signed to Arista Nashville in 1991, the duo recorded ten studio albums, one Christmas album and three compilation albums for the label. They also released fifty singles, of which twenty went to number one on the Hot Country Songs charts and nineteen more reached top ten. The duo's material is known for containing influences of honky-tonk, mainstream country, and rock, as well as the contrast between Brooks' and Dunn's singing voices and on-stage personalities, although some of their music has also been criticized as formulaic. Their 1992 single "Boot Scootin' Boogie" helped re-popularize line dancing in the United States, and 2001's "Only in America" was used by both George W. Bush and Barack Obama in their respective presidential campaigns.
After announcing their retirement in August 2009, they performed their final concert on September 2, 2010 at the Bridgestone Arena in Nashville, Tennessee. Both Brooks and Dunn have continued to record for Arista Nashville as solo artists.
Click here to see a final art logo piece.