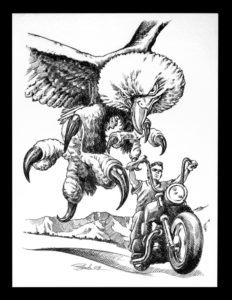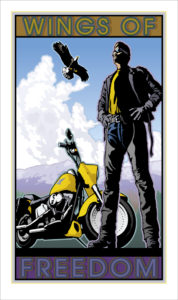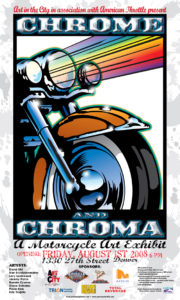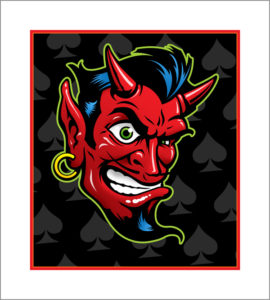 The artwork in this section, themed Biker Art or Motorcycle Art, is created in a few varying styles. Some pieces are created using pencils while others are created in digital form and printed out as Giclee prints on watercolor paper or photo rag paper. This section contains Motorcycle Art, Motorcycle Prints, Motorcycle Drawings, and Motorcycle Sketches or Comps.
Definition of "motorcycle": A motorcycle (also called a motorbike, bike, moto or cycle) is a two or three wheeled motor vehicle. Motorcycle design varies greatly to suit a range of different purposes: long distance travel, navigating urban traffic, cruising, sport, racing and off-road riding. Motorcycles are one of the most affordable forms of motorized transport and, for most of the world's population, they are the most familiar type of motor vehicle. About 200 million motorcycles, including mopeds, motor scooters, motorized bicycles, and other powered two and three-wheelers, are in use worldwide, or about 33 motorcycles per 1000 people. By comparison, there are around 590 million cars in the world, or about 91 per 1000 people, with about one third (195 million) in service in Japan and the United States. Most of the world's motorcycles, 58%, are in the developing countries of Southern and Eastern Asia, and the Asia Pacific, excluding Japan which is one of the world's major car users. In 2006, China had 54 million motorcycles in use and an annual production of 22 million units. As of 2002, India had an estimated 37 million motorcycles and mopeds.
History of Motorcycles
First motorcycle companies: In 1894, Hildebrand & Wolfmüller became the first series production motorcycle, and the first to be called a motorcycle (German: Motorrad). Excelsior Motor Company, originally a bicycle manufacturing company based in Coventry, England, began production of their first motorcycle model in 1896. The first production motorcycle in the US was the Orient-Aster, built by Charles Metz in 1898 at his factory in Waltham, Massachusetts. In the early period of motorcycle history, many producers of bicycles adapted their designs to accommodate the new internal combustion engine. As the engines became more powerful and designs outgrew the bicycle origins, the number of motorcycle producers increased. Many of the nineteenth century inventors who worked on early motorcycles often moved on to other inventions. Daimler and Roper, for example, both went on to develop automobiles. At the turn of the century the first major mass-production firms were set up. In 1898, Triumph Motorcycles in England began producing motorbikes, and by 1903 it was producing over 500 bikes. Other British firms were Royal Enfield, Norton and Birmingham Small Arms Company who began motorbike production in 1899, 1902 and 1910, respectively. Indian began production in 1901 and Harley Davidson was established two years later. By the outbreak of the First World War,the largest motorcycle manufacturer in the world was Indian, producing over 20,000 bikes per year.
First World War: Triumph Motorcycles Model H, mass-produced for the war effort and notable for it's reliability. During the First World War, motorbike production was greatly ramped up for the war effort to supply effective communications with front line troops. Messengers on horses were replaced with despatch riders on motorcycles carrying messages, performing reconnaissance personnel and acting as a military police. American company Harley-Davidson was devoting over 50% of its factory output toward military contract by the end of the war. The British company Triumph Motorcycles sold more than 30,000 of its Triumph Type H model to allied forces during the war. With the rear wheel driven by a belt, the Model H was fitted with a 499 cc air-cooled four-stroke single-cylinder engine. It was also the first Triumph not to be fitted with pedals, so was a true motorcycle. The Model H in particular, is regarded by many as having been the first "modern motorcycle". Introduced in 1915 it had a 550cc side-valve four-stroke engine with a three-speed gearbox and belt transmission. It was so popular with its users that it was nicknamed the "Trusty Triumph."
Postwar: By 1920, Harley-Davidson was the largest manufacturer, with their motorcycles being sold by dealers in 67 countries. By the late 1920s or early 1930s, DKW in Germany took over as the largest manufacturer. After World War II, the Birmingham Small Arms Company became the largest producer of motorcycles in the world, producing up to 75,000 bikes per year in the 1950s. The German company NSU held the position of largest manufacturer from 1955 until the 1970s. NSU Sportmax streamlined motorcycle, 250 cc class winner of the 1955 Grand Prix season. In the 1950s, streamlining began to play an increasing part in the development of racing motorcycles and the "dustbin fairing" held out the possibility of radical changes to motorcycle design. NSU and Moto Guzzi were in the vanguard of this development, both producing very radical designs well ahead of their time. NSU produced the most advanced design, but after the deaths of four NSU riders in the 1954–1956 seasons, they abandoned further development and quit Grand Prix motorcycle racing. Moto Guzzi produced competitive race machines, and by 1957 nearly all the Grand Prix races were being won by streamlined machines. The following year, 1958, full enclosure fairings were banned from racing by the FIM in the light of the safety concerns.From the 1960s through the 1990s, small two-stroke motorcycles were popular worldwide, partly as a result of East German Walter Kaaden's engine work in the 1950s.
Today: In the 21st century, the motorcycle industry is mainly dominated by Japanese companies. In addition to the large capacity motorcycles, there is a large market in smaller capacity (less than 300 cc) motorcycles, mostly concentrated in Asian and African countries. An example is the 1958 Honda Super Cub, which went on to become the biggest selling vehicle of all time, with its 60 millionth unit produced in April 2008. Today, this area is dominated by mostly Indian companies with Hero MotoCorp emerging as the world's largest manufacturer of two wheelers. Its Splendor model has sold more than 8.5 million to date. Other major producers are Bajaj and TVS Motors.
Pencil Drawing: Drawing executed with a pencil, an instrument made of graphite enclosed in a wood casing. Though graphite was mined in the 16th century, its use by artists is not known before the 17th century. In the 17th–18th century, graphite was used primarily to make preliminary sketches for more elaborate work in another medium, seldom for finished works. By the late 18th century, an ancestor of the modern pencil was constructed by inserting a rod of natural graphite into a hollow cylinder of wood. Pencil rods produced from mixtures of graphite and clays, true prototypes of the modern graphite pencil, were introduced in 1795. This improvement allowed for better control and encouraged wider use. The great masters of pencil drawing kept the elements of a simple linearism with limited shading, but many artists in the 18th–19th century created elaborate effects of light and shade by rubbing the soft graphite particles with a tightly rolled paper or chamois.
Cross Hatching: Cross hatching is a pencil stroke method used to create tonal variations. Cross hatching is done by drawing short lines horizontally, then repeating the process over the horizontal lines with vertical or angled strokes. Cross hatching is an effective way to create implied texture in sketches and finished drawings.
Pencil Hardness and Softness: The H means hard and B means black. H pencils, because they are hard, leave less graphite on the paper, so are lighter. B pencils are softer, so leave more graphite on the paper, and therefore are darker. F means Fine Point, and it is quite a hard pencil – easy to keep sharp, but generally a bit too hard for general drawing. The higher the number before the H, the harder it is (so a 4H is harder than a 2H) – HB is kind of in the middle, though for drawing, its still reasonably hard – and in turn, the more higher the number before the B, the softer it is – so the 7B is the softest. HB is equivalent to the standard American Number 2 pencil, B is Number 1.