Welcome to Eagleye Creative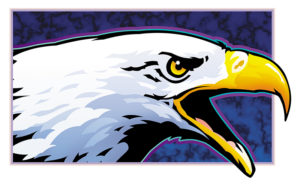 All work on this site is created by Steve Schader.
Contact information:
Phone: 720.810.4447
Email: steveschader@eagleyecreative.com
Website: www.eagleyecreative.com
Bio
Steve Schader was born in January, 1963 in Colorado Springs, Colorado. He grew up in St. Louis, Missouri and after high school attended the Art Program at The University of Kansas graduating in 1985 with a Bachelor of Fine Arts Degree in Design and Illustration. He then moved back to St. Louis and worked for 10 years for design studios and promotional agencies as an Art Director, Designer, Illustrator and Comp Artist for companies including Busch Creative Services, Phoenix Creative, and Obata Design, whose clients embodied corporations such as Anheuser-Busch, Coca-Cola, Ralston Purina, and Motorola. For two years after moving to Denver, Steve headed up the art department as Creative Director for a printing and marketing company working with clients such as The John Elway Dealerships, Domino's Pizza, and the Domino's Franchisee Association. Steve went solo in April of 1998 and works under the business name of Eagleye Creative.
Running his own business in Denver since 1995, he has created images and marketing campaigns for Coors, Hawaiian Punch, Bollé, and Hills Science Diet Pet Food for a local company, The Integer Group. Other clients have included Mile High Harley-Davidson, Boston Market, Satori Creative, High Country Harley-Davidson, The Printing & Imaging Association Mountain States, Red Robin Gourmet Burgers, Kear/Stevens, Orange Glo International, Rocky Mountain Direct Marketing Association and the Colorado Department of Agriculture.
Steve has won awards locally and nationally for his graphic design and illustration work and has had pieces featured in magazines including: Step By Step Electronic Design, Print, and Graphic Design, USA. While working at Dish Network, he, with his team, won two Telly Awards for promotional animations in 2016.
When he has time, he creates fine art using a few different mediums including pencil, colored pencils and watercolors. Lately, his work has combined his skills of drawing with his skills on the computer. Steve started creating digital illustrations back in the late 1980's and worked up a style that was very graphic, yet detailed. His recent works have had a retro or vintage travel poster feel and since the creation of the "Royal Gorge" campaign for an ad agency in Colorado Springs, he has been commissioned to produce pieces that were featured in Colorado Homes & Lifestyles magazine. On his own time, he has created vintage posters for the Roxborough Park area, Boulder, Mesa Verde, Colorado National Monument and Red Rocks Amphitheatre to name a few.
Another thing Steve is passionate about is motorcycles. Steve started riding dirt bikes at age 9 with his father and brother and his passion for motorcycling has only grown over the years. He began riding street bikes in 1984 and in 1986 purchased his first Harley-Davidson (a 1981 Sportster). Steve and his father, who is also an avid motorcyclist, began taking trips together in 1990 and have made their "road trips" an annual event. The first bike trip had 5 guys on it and at one point, up to 18 guys were included on the ride.
Steve's enthusiasm for motorcycling has allowed him to be able to work with companies such as Mile High Harley-Davidson, High Country Harley-Davidson, Coors (sponsoring motorcycle promotions), and Victory Motorcycles. His excitement for the world of cycling has also encouraged him to create numerous posters and commemorative "ride" t-shirts. Another one of Steve's side projects began in 2004 when he and a partner began developing American Throttle, a motorcycle trivia board game based on a poker run. The game was introduced into the marketplace at the end of 2007. Unfortunately the recessive economy took a toll on the project and the game is no longer in production.
Any chance he gets, Steve is out riding through the mountains or somewhere on the plains with his friends and family… mostly for the fun of it, but occasionally to benefit a charity or a cause.
Finally, since 2011, Steve has been working for a Fortune 200 company… Dish Network. He's a Senior Graphic Designer for the Sales Training team and has created pieces which include print, digital and animation. Sales Guides, Flyers, Job Aids, Merchandise Comps/Layout, Newsletters, Executive Powerpoint presentations, Promotional Posters, TV Monitor Graphics, Web Graphics, Full Department Branding, Infographics, Logo/Icon Design, Illustrations (for animations and computer based trainings), Greeting Cards and Promotional Animations are among the projects he's been part of since being hired at Dish. He's also has been the trainer for Adobe InDesign, Illustrator and Photoshop and has put together a classroom teaching for the basics of these three programs for "new hires" and anyone else that wants to have knowledge of these Adobe products.
He's also put together a classroom training for "new hires" or any other employee that wants to learn the basics of the top three Adobe products. His knowledge of Adobe InDesign, Illustrator and Photoshop has made him invaluable as the instructor for these programs.